Operators First Cymru, Richards Bros and Lloyds Coaches are the latest to use UrbanThings' smart mobility platform
The Ticketless smart mobility solution has been rolled out to several operators serving the TrawsCymru network in Wales, UrbanThings has revealed. It is the first phase in a larger project conducted in partnership with the Welsh Government.
The solution offers passengers a TrawsCymru app which provides real-time information and mobile ticketing for operators First Cymru, Richards Bros and Lloyds Coaches. UrbanThings' social distancing technology supports social distancing by showing live vehicle occupancy.
UrbanThings says the next phase of the project is due to roll out in December and will allow passengers to reserve seats for specific services and pre-book journeys via a passenger website. It hopes the solution will be available to the whole TrawsCymru network in early 2021.
"Giving passengers real-time information and a mobile ticketing system will make using the TrawsCymru network more accessible and convenient," says Minister for Economy, Transport and North Wales Ken Skates. "Our transport network continues to adjust to the challenges of coronavirus COVID-19 and this is another way to help people travel with confidence.
"We've worked closely with UrbanThings and alongside Transport for Wales to deliver this innovative system for passengers."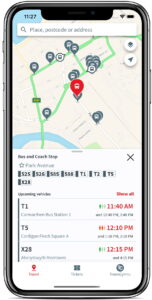 UrbanThings CEO Carl Partridge has praised everyone involved in the rollout. "Being able to integrate multiple operators into a single streamlined solution, and within such a tight timeframe, was a great achievement by everyone involved," he says.
"We look forward to the next phase of the project, where we can offer pre-booking and seat reservations to TrawsCymru passengers."
The app is available in both English and Welsh and is supported by a smart mobility back-office which provides detailed reporting and passenger metrics.