The potential for hydrogen fuel cell power in a coach fleet has been formalised by scheduled operator FlixBus – which recently applied for an O-Licence in the UK – and fellow German business Freudenberg Sealing Technologies.
Collaboration has begun between the two companies. They claim the resulting hydrogen-fuelled coach will be a world first. A vehicle OEM that will be part of the project will be announced as discussions progress.
No indication of which manufacturer that will be has been revealed. Daimler is among FlixBus investors, although FlixBus thus far runs no coaches of its own. It relies on vehicles provided by partner operators.
FlixBus wants 500km range from hydrogen coach
FlixBus has laid down what it wants from a fuel cell coach.  A range of 500km is required and refuelling must take place in 20 minutes or less. Performance, including acceleration, should be the equivalent of that of a Euro 6 diesel coach.
Spearheading the adoption of hydrogen in the coach market is part of FlixBus' desire to help shape the future of mobility, says Managing Director DACH Fabian Stenger.
"Our modern fleet is already extremely environmentally friendly. Nevertheless, we are constantly asking ourselves how we can make travel even more sustainable and further reduce CO2 emissions.
"Following the successful launch of electric long-distance coaches [with FlixBus], we want to develop the first long-distance coach with fuel cell drive. Working with Freudenberg, that will set another milestone in the history of mobility."
Staged programme to develop hydrogen coach for Flixbus
Freudenberg owns a fuel cell manufacturer and it holds a majority stake in a battery producer. It has been involved with fuel cells since the 1990s. That vertical integration means it will be a single source supplier of the coach driveline, which will be to a hybrid configuration.
Doing so will combine the fuel cell and batteries, maximising range. To validate the hybrid package's performance, a "representative fleet" of 30 hydrogen-powered coaches will be equipped with it.
FlixBus and Freudenberg are seeking state funding to expedite the project within the framework of the National Innovation Programme Hydrogen and Fuel Cell Technology. That, they say, will help to ensure that it rapidly reaches market maturity.
"The electrification of drive technology is making huge strides," says Claus Möhlenkamp, CEO of Freudenberg Sealing Technologies. "We are therefore pleased that with FlixBus, we have another well-known customer that relies on our innovative strength and quality."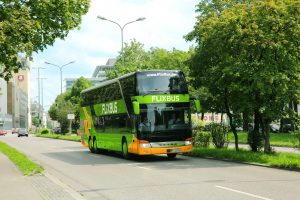 Mr Möhlenkamp adds that the requirements for performance and long-term reliability in heavy-duty applications such as scheduled coaching are particularly high. Freudenberg will factor those needs into its development work. It says the fuel cell is scalable to suit operating circumstances.
As part of that work, Freudenberg is already pursuing integrated battery-fuel cell systems that will address power, base load and unique operating cycles in areas that include road passenger transport.
"We see the fuel cell in combination with batteries as an integral part of the mobility of the future. We're looking forward to working with FlixBus on this ground-breaking project," adds Mr Möhlenkamp.
FlixBus, which is part of FlixMobility, believes that when the coach fuel cell driveline is fully developed it could be exported to other continents and be used in rail applications.
Zero-emission is nothing new for Flixbus
Zero-emission coach driveline technology is not something that is new to FlixBus. Last year, it placed into service its first BYD C9 battery-electric coach on a route between Frankfurt and Mannheim as part of a trial, during which it was expected to cover 125,000km per year.
At that time, Mr Stenger noted that while an electric coach costs more to purchase than a diesel-powered equivalent, savings would be realised over the vehicle's lifetime.
BYD has not hidden its desire to extend its reach into the European coach market. The Chinese manufacturer will introduce a new C9 shortly, BYD Europe MD Isbrand Ho recently confirmed.
It remains to be seen whether FlixBus will operate hydrogen-powered coaches on its routes between continental Europe and the UK.
It is understood that the company recently established an office here. In April it registered a subsidiary, FlixBus UK Ltd. The sole Director is Max Zeumer, FlixMobility Vice-President of International Business.
Earlier this year the company stated its intention to expand within Europe and elsewhere. It already has a growing operation in the United States, and India, Latin America and Russia are among its target markets, according to the Financial Times.
routeone comment
Alternative fuels in coaches have, with odd exceptions, thus far been filed in the too difficult pile.
Arguments both for and against them can be made easily enough. But with no sign of government support for any transition of the coach sector away from diesel, the economic and operational cases stack up with difficulty in most applications.
It was inevitable that hydrogen would be raised as an alternative to diesel in coaches. It does not come with the range limitations that battery-electric power does.
What is less clear is how much one of these coaches will cost, although when a nationwide or continent-wide refuelling infrastructure can be provided – whenever that may be – the concept may gain traction. Certainly, zero-emission zones will have an influence.
For now, UK operators should keep a watching eye on goings-on at FlixBus. And not just relating to its fuel cell project.