In June, Chalkwell Coach Hire established a new presence on the Isle of Sheppey. MD Roland Eglinton explains how plans to bring back a local touch came to fruition
The Isle of Sheppey bus network has been Arriva territory since "the dawn of time" according to Chalkwell Coach Hire Managing Director (MD) Roland Eglinton.
But Arriva's retrenchment earlier this year presented a unique opportunity for its Sittingbourne-based neighbour. On 12 July, Chalkwell took the decision to expand onto the island, taking over a number of Arriva's old routes and introducing a rebranded fleet called Island Buses.
Having been founded in Sheerness on the Isle of Sheppey, it seems fitting that on its 90th anniversary Chalkwell would return to its home territory to bring back a "local touch". Its growth is, so far, a story of success at a time when COVID-19 has proved a difficult year for many operators, and for Roland, provides a positive message about the role and strength of independents in a difficult trading landscape.
New and improved Chalkwell services
The services that Chalkwell Coach Hire has adopted from Arriva include the 360, 361, 362 and 367 group. It is being resourced with five buses and will make up a "reasonably self-contained" network.
The 360 and 361 commercial services which run Monday to Saturday were initially deregistered by Arriva. The Sunday service is supported by Kent County Council (KCC) as a tendered contract, for which notice was given. The 367 was also a KCC service, and notice was given for that. Chalkwell took on all services commercially except for the Sunday service, for which it tendered and now operates under contract.
The 362 service, essentially a renumbering, was part of existing 363/361 routes, and has been made into dedicated service in its own right around Sheerness.
All of the services will be operated out of Chalkwell's depot in Sittingbourne, rather than from a dedicated depot on the island. It is understood that Arriva will maintain some presence on Sheppey, and will be maintaining its depot on the island.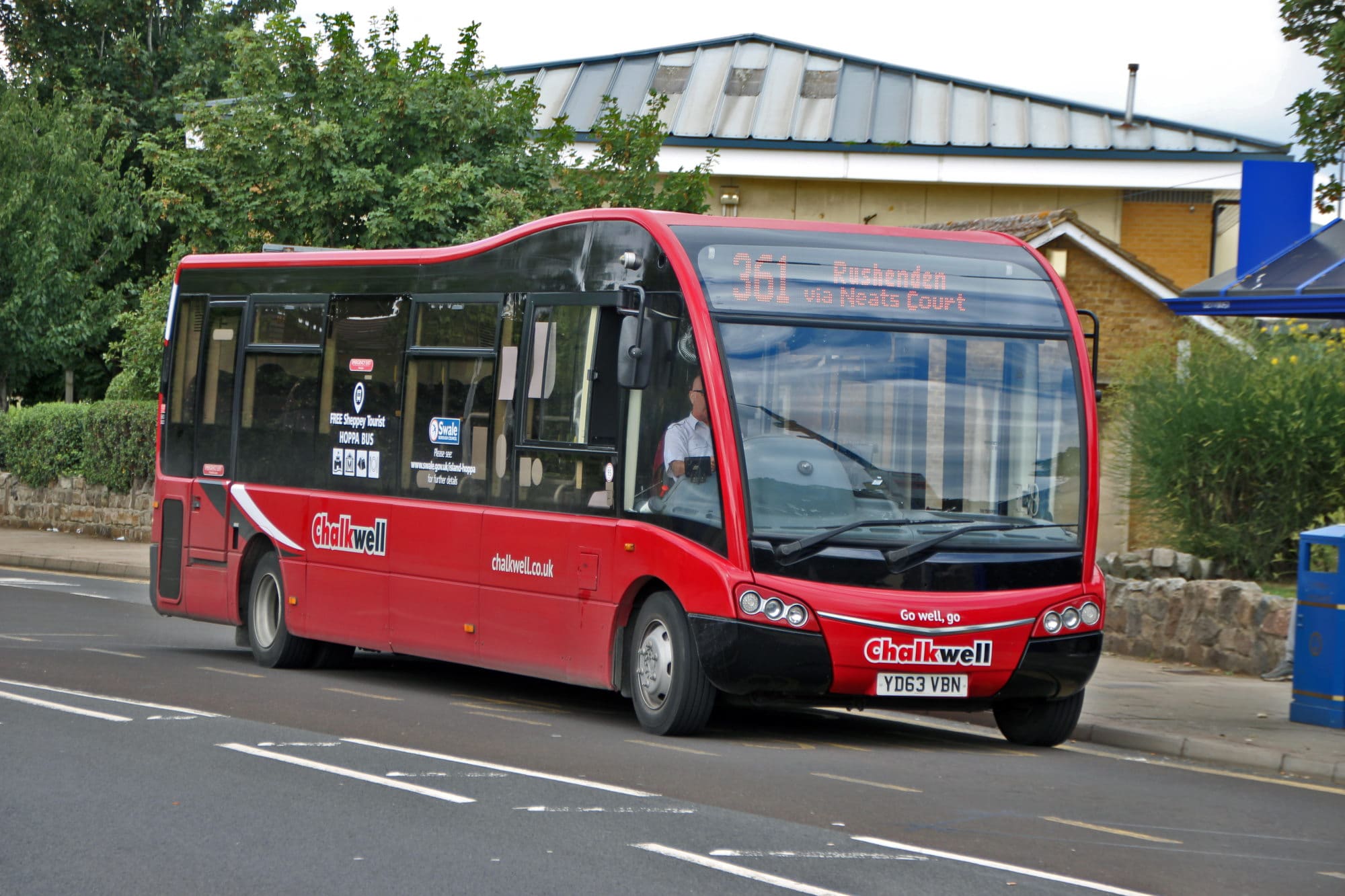 Long term goals
Chalkwell Coach Hire shows that it pays to be diverse as a business. With an existing network and work made up of 70% local authority contracts and bus services, and the welcome return of schools in September to put the coach fleet back on the road, it has seen its way through the pandemic with a steady stream of work. Such an approach Roland considers essential to an operator of that size.
"We were able to keep a slimmed down operation, still running, and were able to keep our heads above water," he says. "We've always done a mix of things and so adapting quickly, doing more bus, or less coach, was something we could get our heads around."
Bus patronage still looks uncertain – Roland reports it sits currently at 70% of pre-pandemic levels, up from about 40% at its lowest point, and one of the biggest challenges has been the difficulty in mediumto long-term planning. "None of us can foresee how things are going to play out over the next few months and years. Forecasting and budgeting is very difficult. You can plan until the next thing and then maybe half plan after that, but you're living in the short-term world right now."
But Chalkwell may be placed better to handle those challenges, and still maintains an overall strategy – key to which is a goal to carry one million passengers per year on its buses within three years. Growth into the Isle of Sheppey is a step in that process, and was an opportunity that Roland did not want to pass up. Having always considered expansion into Sheppey as the company's "next logical move", the network serves as bolt-on to its existing offering. Despite deflated patronage, a number of factors combined to convince him that growth onto the island was worthwhile.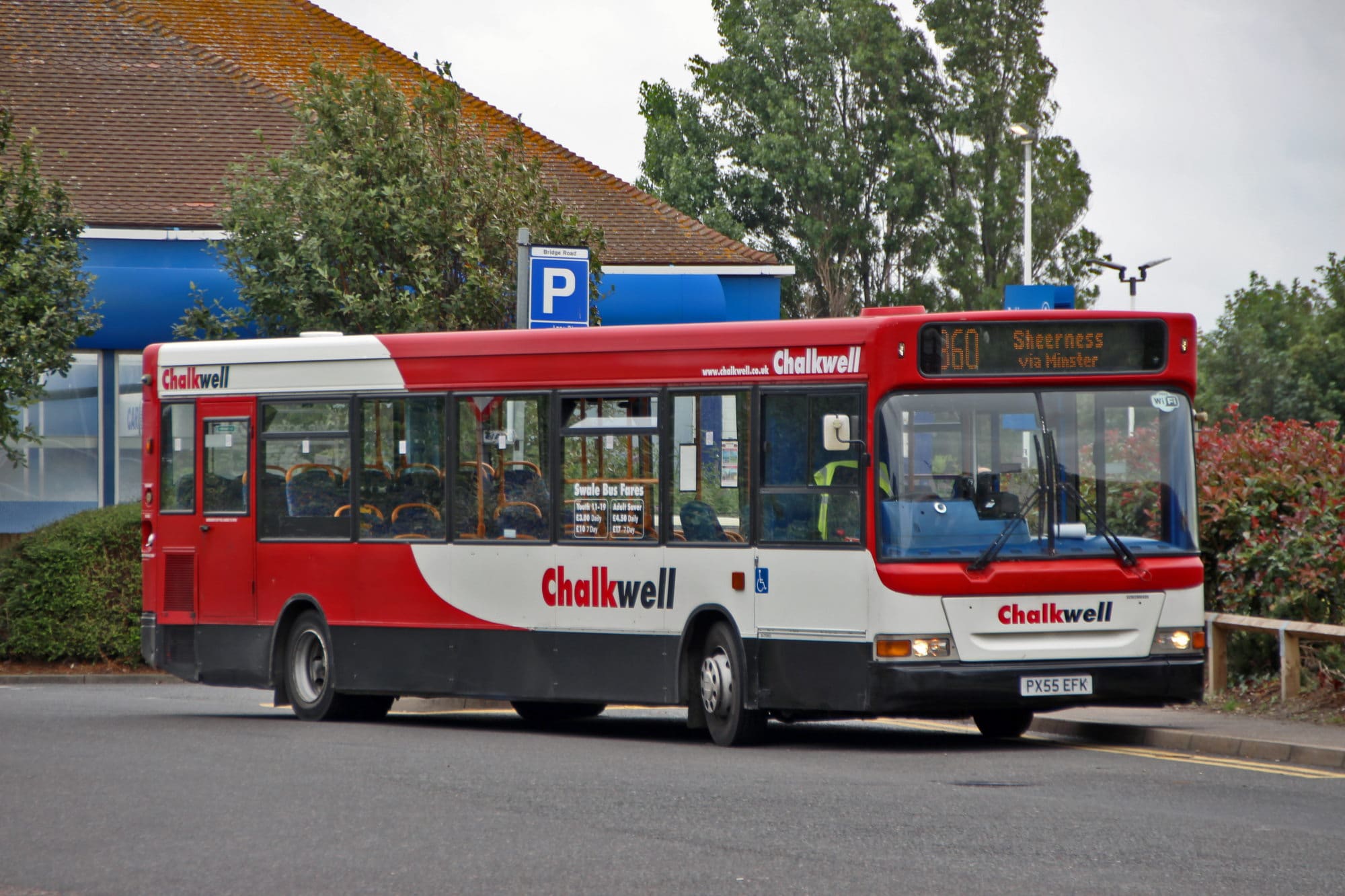 "We thought it was a good opportunity," he says. "We already have a bus network and do school buses from Sheppey into Sittingbourne, so it was a logical progression. Opportunities like this don't come up every day. So having a look at the network there, we thought there was a good opportunity to try and develop it and get the basics right."
Getting "the basics right" includes putting clear timetable information out, printed as physical copies that passengers can access easily (something which, according to Roland, many people have been clamouring for since Arriva withdrew physical timetables in favour of an app); clear information published around fares; a smart fleet with a reliable service, and a rebrand as Island Buses to give the network strong local identity.
Roland is confident Chalkwell can avoid incurring the same difficulties that Arriva faced while on the island. Assistance from Ticketer makes sure that buses go to where they're needed and that passenger levels are being monitored. It is of course too early to draw any conclusions – weather has had dramatic effects on passenger numbers lately – and much of the success of the new network depends on how the revised Bus Recovery Grant (BRG) mechanism and Bus Service Improvement Partnerships (BSIPs) will look.
Nonetheless, Roland believes the network has a lot of potential. "We need to see more detail before we come to any conclusions, but government is making the right noises about buses so there is a lot of interest. We think the climate is right." COVID-19 Bus Service Support Grant (CBSSG) had helped take away revenue risk while making the move, and Roland says conversations surrounding BSIPs are reasonably far ahead to prepare for those changes too.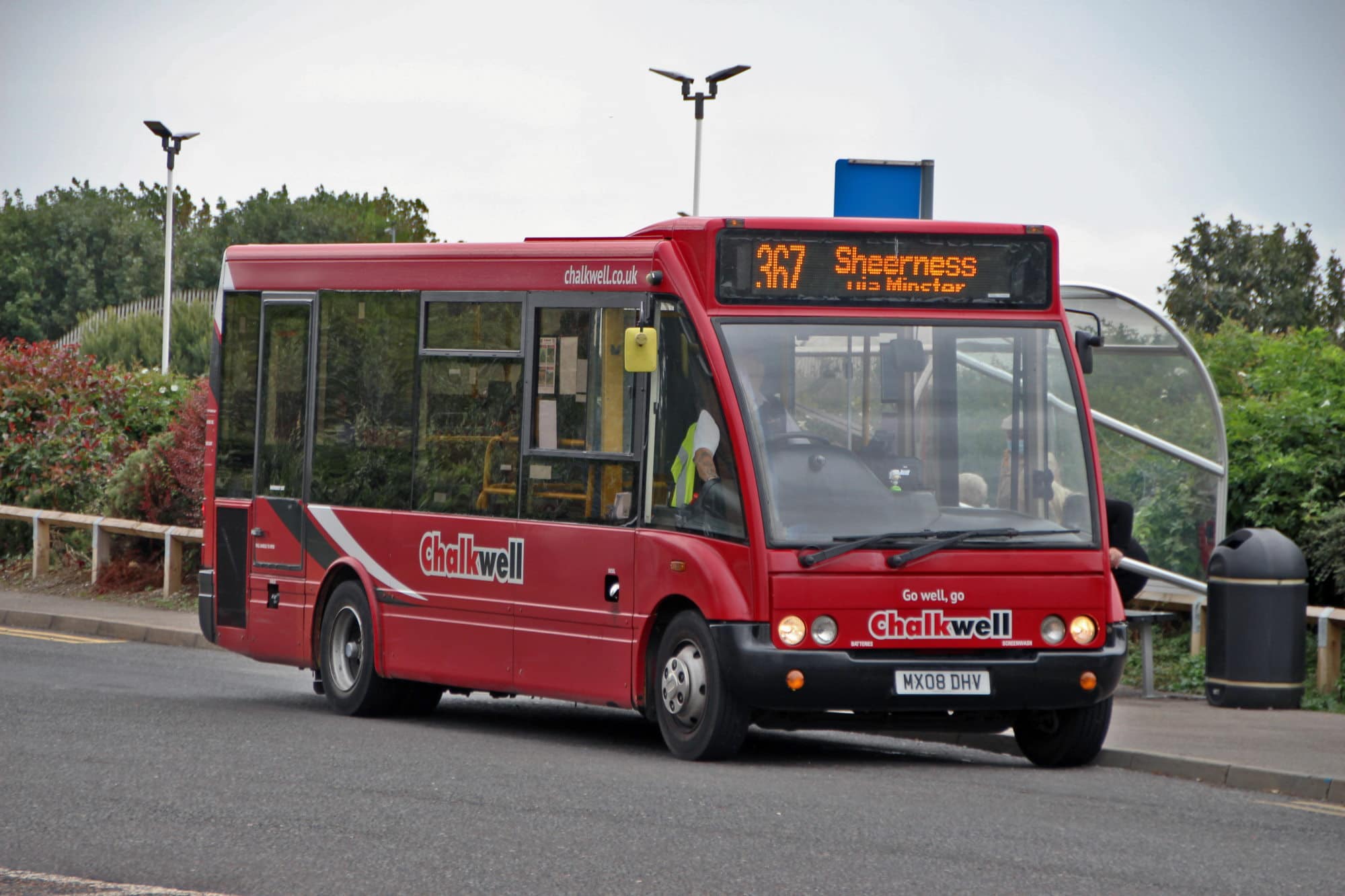 Steady improvement
When Chalkwell first got word that changes were happening on the island, it recognised one of the key difficulties it would face: The pandemic is still here. That meant that, with fewer people travelling, there were fewer opportunities to do head counts to determine which routes would be the most viable.
Instead, the operator took the view to take over the services more or less as Arriva had left them, with smart improvements. It will then take time to understand what works and what doesn't. With another wave of COVID-19 potentially taking hold, that could yet affect things in unknown ways. "We've got to take the time to evaluate where we are and see how it's coming together," Roland says.
Taking over those services is essential to the social wellbeing of the island, though. A branch railway line to Sheerness via the western side of Sheppey makes up one transport link, but to the eastern side, a car would otherwise be the only means of access to Sheerness for central facilities. "As you look at the map, without bus services, people would be isolated," Roland says. "A great deal of retirees and those in semiretirement there are reliant on bus services. Cheaper housing also means those on low incomes are dependent on local buses."
Extra work at a time when the business is already quite busy has been an operational challenge. From the outside, the reaction to the takeover has been positive. That's thanks in part to stakeholder engagement work carried out in June to smooth the transition, involving community leaders, parish and county councillors. In that meeting the new network was presented virtually over Zoom and Chalkwell was able to explain the situation, processes and priorities, and what the new network was to look like. This meant questions from constituents could be answered when they inevitably arise.
"We wanted to be on the front foot in terms of the community with this," Roland explains. "That was very useful. Inevitably, some councillors had concerns, but on the whole it has been very positive and that was something I'd like to do again if we do something on this scale – more community engagement gets important feedback and when people start creating their own ideas which may or may not be more outlandish, you're able to explain why things have to be a certain way before things gather too much momentum."
It also helps that Chalkwell Coach Hire is a known quantity in the area: "I think we've got a good standing in the local community, and we try to play on the fact we're a local business, a family business, and we think we can bring a local touch to the network – and hopefully that will work for everyone involved."
Emphasis on a local touch plays well into the culture on the Isle of Sheppey, where Roland feels something of a unique identity has developed. "Branding something as theirs gives the locals something they can buy into," he says. Conversations with one other company MD reveal that growth often comes from local branding where an emotional connection can be made.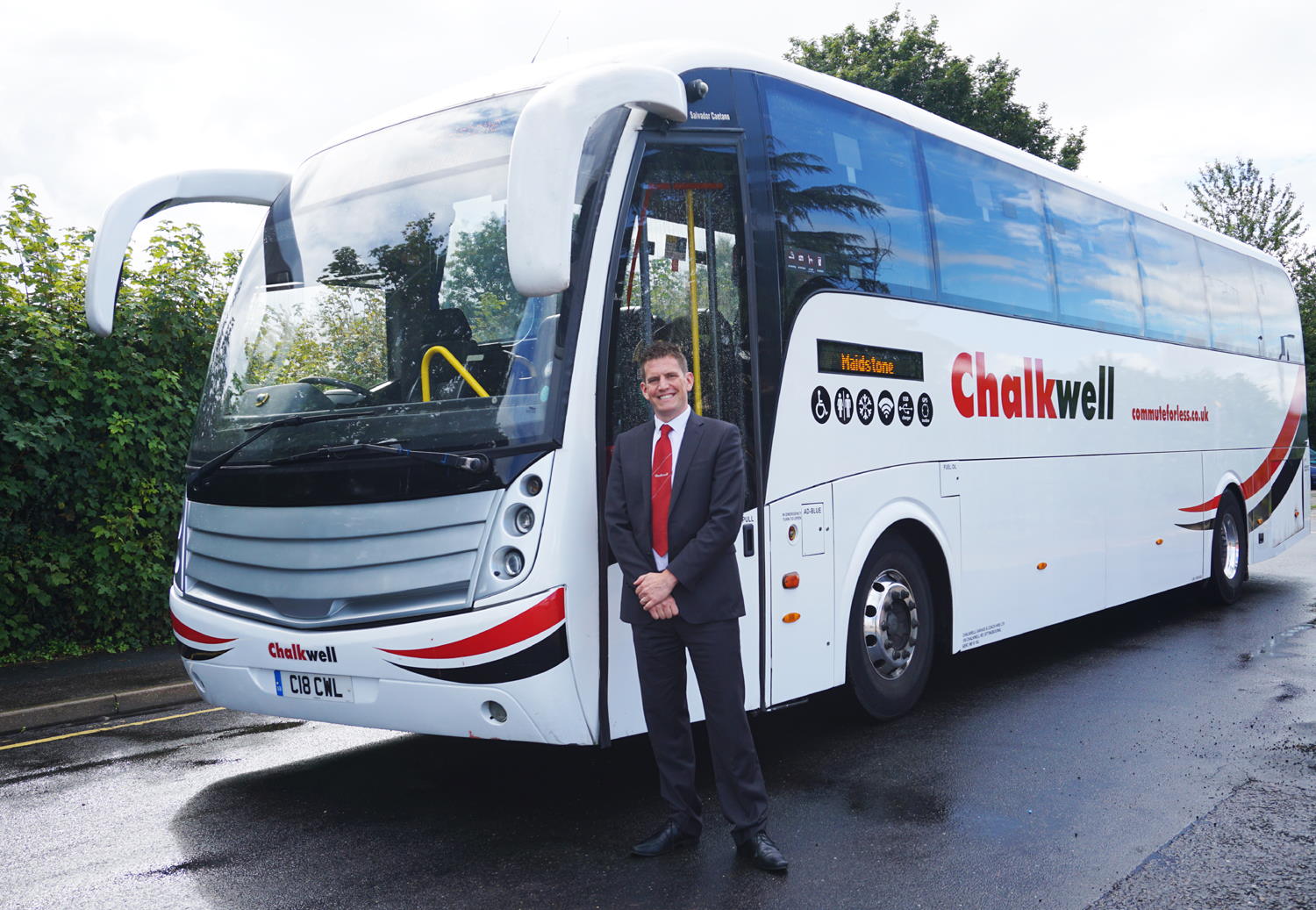 Other opportunities
With much building scheduled to be done on the island, Chalkwell is keen that local planners include public transport into those designs. The National Bus Strategy for England presents a unique opportunity too. "We're looking forward to seeing how that plays out once our local authority has worked on its BSIP. We're part of that process and I think there are good opportunities there."
In the meantime, Chalkwell recently launched the MyTrip app with Passenger, began contactless payments last year, and Roland is currently coming up with a marketing plan for the whole bus network to continue to raise the profile of bus travel. That is now starting in earnest. "We've been really keen to make use of technology, social media, and strong branding alongside technical developments."
Does this show that it is a good time to be an independent operator? Roland feels that it does. If the pandemic has demanded one thing, it is for the world to adapt rapidly to a changing situation – and independent operators, with flexible decision making, have demonstrated their ability there particularly well. There will inevitably be times when implementing changes of policy and direction at short notice, pivoting, and adapting quickly put a business in the strongest position.