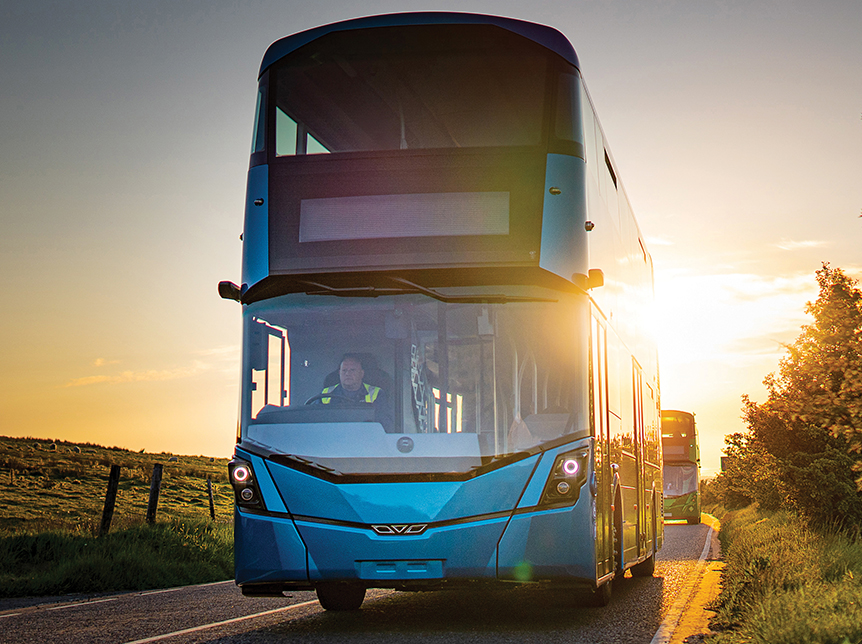 The government is today pledging £815,000 of investment for a new Bus Centre of Excellence to train and retain staff in the industry.
The new training body was announced in March 2021 as part of the National Bus Strategy and is designed to bring together expertise from local government, bus operators and industry.
Hosted by the Chartered Institution of Highways and Transportation, it will provide training opportunities and offer direct access to resources as well as industry experts. According to the Department for Transport, the Centre will contribute to the frequency and efficiency of buses.
The backing is set to be announced by Roads Minister Richard Holden, who is today visiting Leicester as the government confirms £3 million funding for 18 new zero-emissions buses from Wrightbus in the city.
Mr Holden is attending a launch at the city's First Bus depot, which will be one of the first in the country to be fully electric. Heliox is providing the charging infrastructure.
The government's Zero Emission Bus Regional Areas (ZEBRA) funding scheme has already contributed  to First Bus's initial order of 68 electric buses and, with the latest additions, the entire fleet will be zero-emissions. Across all operators, Leicester has benefited from nearly £22m in ZEBRA funding for 115 electric buses.
Mr Holden says: "Buses are the backbone of our transport network, providing affordable travel for commuters, families, and pensioners, and providing an economic lifeline for towns and cities around the country.
"This multimillion investment for Leicester's clean transformation, coupled with the new Bus Centre of Excellence, will help drive the country's bus sector recovery and provide passengers with cleaner, more affordable buses that run on time."
In total, ZEBRA has provided nearly £300 million in funding to support 1400 zero-emissions vehicles in England, helping to make the UK the European leader in electric buses.
Janette Bell, Managing Director at First Bus, says: "We're absolutely delighted that Leicester will become one of our blueprint bus depots of the future, helping us to refine and iterate this new concept so we can roll it out across the rest of the UK. At First Bus, we're continuing to trailblaze with our partners to ensure we meet our net-zero targets, supported by co-funding from the Department for Transport.
"As leaders in sustainable mobility, we are fully aligned with the Government's ambitions for a net-zero carbon transport system. Through this co-funding with the ZEBRA scheme, we're excited to electrify another five of our UK depots before March 2024, and look forward to introducing even more electric buses to our constantly growing fleet.
"We cannot wait to see our customers' reactions once the project is complete, as we know the difference this will make to the city. Electric really is the future and we're glad we can take our customers on this journey with us."