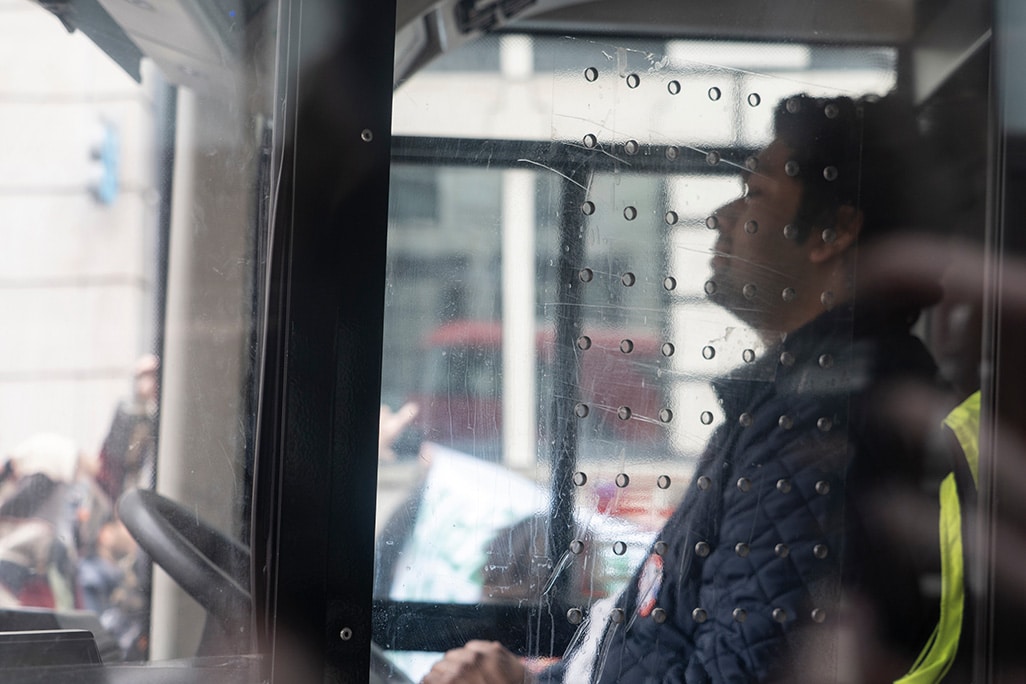 With the virulent Omicron variant of COVID-19 sending infection rates skyward, how are UK bus operators coping with the current wave?
With the Omicron variant now the dominant strain of COVID-19 within England and setting new records for cases across the UK, routeone asks how bus operators are coping with the current wave amid existing driver shortages and reduced patronage.
While it is difficult to gauge the impact the Omicron surge is having on passenger footfall, operators have revealed that its impact on drivers presents a mixed picture across the country.
Increased absenteeism
Jeff Counsell, Managing Director at Trentbarton and Kinchbus, reports that patronage had increased to approximately 80% of pre-pandemic levels prior to the new wave of Omicron, with that growth "dwindling" as the disease combines with other factors such as bad weather.
In terms of drivers, Jeff reveals Trentbarton and Kinchbus was experiencing a 14% shortage already owing to the national driver shortage. Nor has it begun to see meaningful progress from the delays at DVLA in issuing provisional vocational licences. "That's much improved now but we're still playing catch-up with the 50 or so applicants we have waiting to join us," Jeff says. "They are coming through, but the problem is it takes only one week to lose a driver and six to eight weeks to replace them."
There are seasonal absence rates to consider, and that offers a reflection of the impact Omicron is having on driver availability. For Trentbarton and Kinchbus, Jeff reveals that seasonal absence rates owing to ill health or hospitalisations typically stand at 3% of the workforce. Omicron absence is currently running at 4.6% on top of that. That is resulting in a combined absenteeism rate of almost 8%.
"That number is unknown territory for us," Jeff adds. "We currently have 39 staff members absent with the Omicron variant, with some of those in isolation recovery phase while others have taken time off to take a polymerase chain reaction test. A lot of absenteeism is only known of on the day it happens, so it is difficult to cope."
Medium to long-term solutions to deal with the added pressure means Kinchbus and Trentbarton has temporarily withdrawn two services. Alternatives for those services are already in place. Four more services are also being considered for reduced frequency. "This is just so we can save driver lines and at least try and deliver an honest timetable," Jeff explains. "On the back of that we are pumping recruitment through as hard and fast as possible to make sure staff turn up, are fit for work, and are temperature checked."
While a reduction of self-isolation has been mooted, Jeff cautions against any radical changes to existing procedures. "It's a tough call. We don't want people coming back too early. Once someone tests positive test for Omicron, they may still test positive for several days afterwards. While anything we can do to get staff back safely and in good health without jeopardising others is welcome, we should tread cautiously."
Business as usual for some
For others, Omicron's impact may not be having much effect in terms of ill health, but the COVID-19 disease continues to affect staff's attitude to work and contribute to driver shortages.
Lincolnshire operator Brylaine reveals it has been particularly hard hit by the loss of drivers during the pandemic, not through sickness, but indirectly through drivers' decisions to look for new work. Brylaine recently made local news when it dealt with the shortage by suspending Saturday services until the end of March. That will at least allow the operator to focus on maintaining Monday to Friday services. And in terms of passenger footfall, concessionary pass holders have been hardest hit by the new wave of Omicron.
"Mentally it has affected people," says Managing Director Marrianne Garbutt. "They've looked at the jobs they do and made life-based decisions based on COVID-19. But in terms of actual sickness we've been incredibly fortunate.
"What we were looking at was a way to be consistent. Because we're rural, I don't like dropping services ad hoc. It's the wrong thing to do – one, because it damages reputation, and more importantly, because we're rural, we've only got a service every hour or two hours. It's really difficult to reach people and I don't want people stranded in the cold for two hours.
"While anything we can do to
get staff back safely and in good
health without jeopardising
others is welcome, we should
tread cautiously"
For Marrianne, there are three overarching problems that need to be overcome moving forward. The first is the problem of a lack of a driver training programme easily accessed for independents. In fact, Brylaine recently began working with Boston College and is awaiting funding from its Local Enterprise Partnership.
"We're starting that at the end of January with a full driver training programme, because we don't have that accessibility in Lincolnshire," Marrianne adds. "But other operators need support with their own driver training programmes."
Marrianne also highlights the issue of driver pay. "They're not paid enough," she says. "That's why we lose them so easily and why they are moving so readily to other industries."
The final issue is related to the second and deals with the conundrum of how to pay those drivers. For a rural operator such as Brylaine, Marrianne acknowledges the difficulty in that when there is both a lack of funding and footfall. "97% of our routes are commercially operated," she says. "There is no underpinning for those other than BSOG, which when you are running double-deckers is not enough."
Marrianne calls for both a revision of BSOG and clarity on the review of concessionary fares in England outside London – which, if reduced, she argues could be "a network breaker" in terms how the operator derives revenue from those fares to support rural services.
Fluid situation
Elsewhere, operators have contingencies in place for if the situation worsens. Delaine, based in Bourne, has had staff isolate though the operator has managed to avoid absenteeism affecting service mileage. "Numbers are small but we continue to take precautions in the depot and whatever we are doing, it seems to be working," says Director Anthony Delaine-Smith. "You can't rest on your laurels because the situation can change very quickly."
And Anthony reveals anxiety about the seven-day isolation rule as schools return. "If Omicron it is going to go through our employees more vociferously than earlier variants have done, it would be nice to get them back in the workplace as soon as possible if they are not showing any symptoms," he says.
Due to the rapidly changing nature of the COVID-19 pandemic, some of the information in this article may no longer be relevant.