M&M Staffing did not come into the coach industry via what may be considered a usual route. The Essex business began around 18 years ago as would be expected of one by that name: Providing staff, something that it continues to do. They function as rail replacement controllers and work on behalf of National Express, among other roles. 
A decision to run coaches of its own came later. Although Directors Mark and Mandy Hough were not initially keen to operate, they eventually bit the bullet and purchased a used Neoplan Tourliner on a 10-plate to create the M&M Coaches brand. The fleet has grown since then and M&M recently took delivery of its second new Tourliner. That coach is a PSVAR compliant P20 tri-axle that can convey up to seven wheelchair users. It takes to three the number of Neoplans currently with M&M. A further example is likely to follow later this year. 
Mark's career in transport began in 1988 as a conductor with London Buses from its former Upton Park depot. That was a different time for the passenger transport sector, with no focus on emissions – or accessibility. The latter is something that he has long been aware of a need for, and it has influenced the way in which M&M's fleet has developed.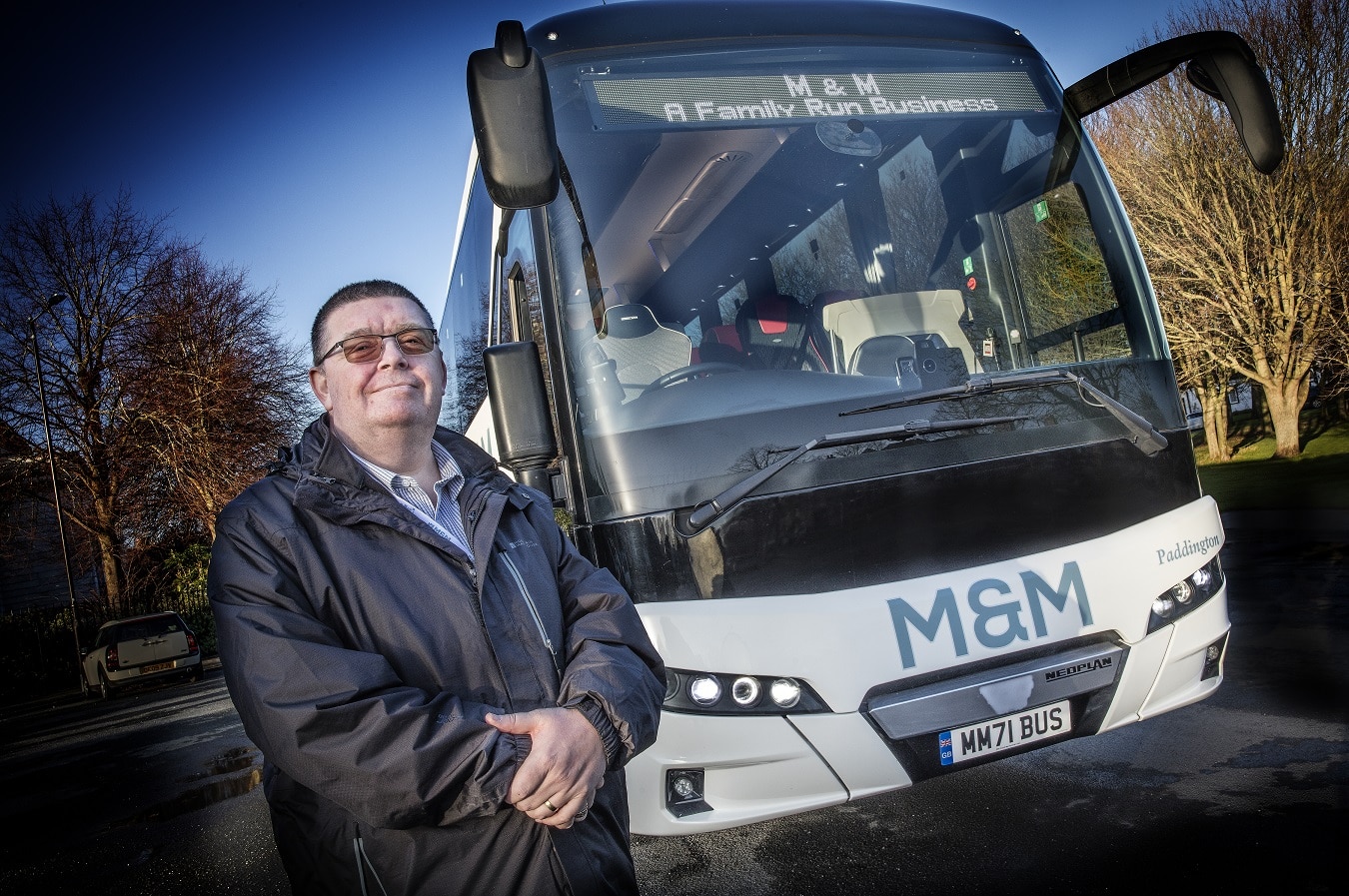 "When I was a lot younger and considering what to do with my life, I volunteered for two years to work with disabled children in East London," he explains.
"The only way they could be transported anywhere was with an old, unsuitable minibus. It was awful. I learned a lot about inclusivity during that time." 
Inclusivity remains at the forefront of Mark and Mandy's thinking. Mark agrees with politicians' focus on that aspect of PSVAR and he does not subscribe to the view that passengers who are unable to board a coach via the steps should be transported by accessible minibus or taxi instead. "Why should they be? They should travel in the coach with the rest of their party." 
Accessibility and inclusivity: Fleet keys
to M&M Staffing
All of M&M's Tourliners are the current model and are thus Euro VI examples. PSVAR compliance is also universal across those coaches, which run alongside a Mercedes-Benz Sprinter with an EVM conversion. It is also Euro VI. 
The Tourliner that joined the Chelmsford business in January was a stock example that arrived from the factory in non-accessible form. In the intervening period, BASE Coach Sales managed its upgrade to PSVAR standards, which was undertaken in Portugal by MOBIpeople. MAN Truck and Bus UK enjoys a strong relationship with the Lancashire dealer as its favoured supplier of PSVAR conversions. 
Accessibility for M&M comes in useful on rail replacement work, but it is also proving its worth on private hire duties. Mark notes that the operator does not wish to tread on the toes of others, and thus he is keen for the latter side of the business to grow organically. The approach taken has led to an increasing amount of return custom. 
High wheelchair user capacity of new Tourliner will be useful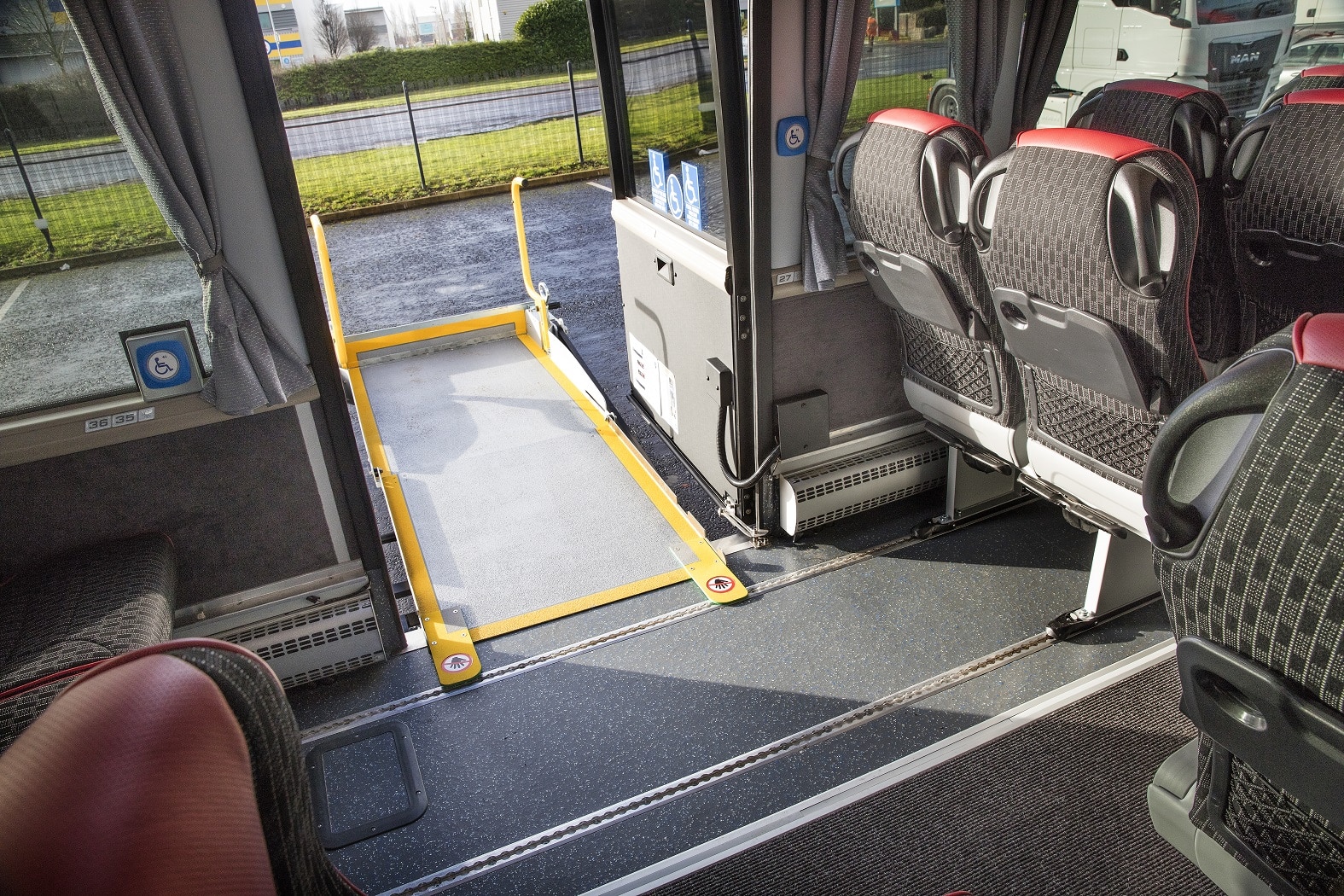 The new coach's high wheelchair user capacity gives a worthwhile USP.
As an indication that work exists for those that can carry such high numbers of passengers requiring lift access, an enquiry was recently received from a group that includes 10 wheelchair users.
M&M will be working hard to spread the word about its new arrival among potential hirers. While seven wheelchair users are not likely to be carried often, there is logic in going for that arrangement. 
"Much of the expense of PSVAR compliance comes through the lift and the additional door. But more tracking, quick-release seating and other smaller items is not such a significant cost," Mark explains.
In tri-axle Tourliners, the lift is in a ski locker over the drive axle. A flat gangway means that tracking is fitted to both sides of M&M's coach. A set of Koller restraints, including three-point belts for wheelchair users, is included in the package used by M&M, and the latest Neoplan comes with an aspect that is useful to passengers with hearing or sight problems: An audio-visual information system. 
It includes an internal display that is located above the windscreen. Like the exterior-facing destination units, it has been fitted by McKenna Brothers. While similar in style to such equipment used in some buses, its activation is reliant on 'trigger points' defined by the operator.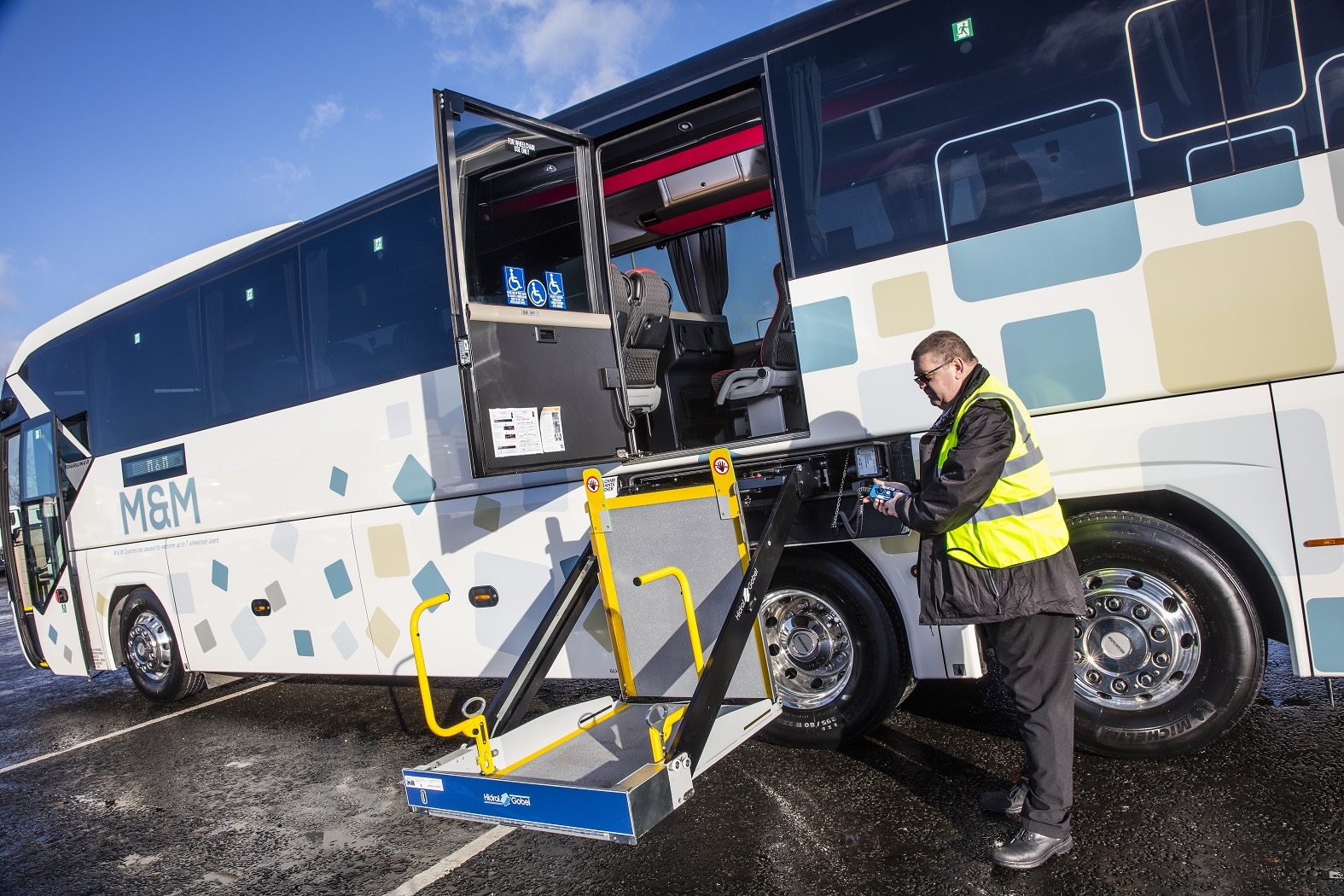 As an example of how it works, Mark points to rail replacement work. M&M can configure a trigger to engage when the coach is within an appropriate distance of a rail station.
An audible and visual announcement will be made at that time. The same can be accomplished on a private hire when approaching the destination or other point as required. Fitment of the equipment has generated a positive response from rail replacement providers' staff that are aware of it. 
A further part of the new Tourliner's specification is a comprehensive CCTV system supplied by Centrad. It includes cameras at the rear on each side of the coach that are lower than would typically be the case. On the nearside, that is to allow operation of the lift to be recorded. The system has also been configured so that when the indicator is applied, the feed from the rear camera on the opposite side is displayed on the cab screen to assist the driver with awareness of tail swing. 
Leasing and warranty periods for coaches work in tandem
The new coach can convey 55 passengers when not configured in an accessible layout. Even when a full complement of seven wheelchair users are aboard, 31 seats remain in place and useable. 
Power is from the MAN D26 engine developing 470bhp driving through a ZF EcoLife automatic gearbox. An earlier coach fitted with the same driveline and briefly driven by routeone demonstrated that it is highly flexible. Mark concurs. He finds the Tourliner in D26-equipped form to be an easy and comfortable coach to drive. 
M&M remains loyal to MAN for several reasons, he continues. While he believes that some members of its dealer network could improve the service that they offer to coach operators, heart is taken from MAN's ongoing investment in that support function, and he otherwise likes the product.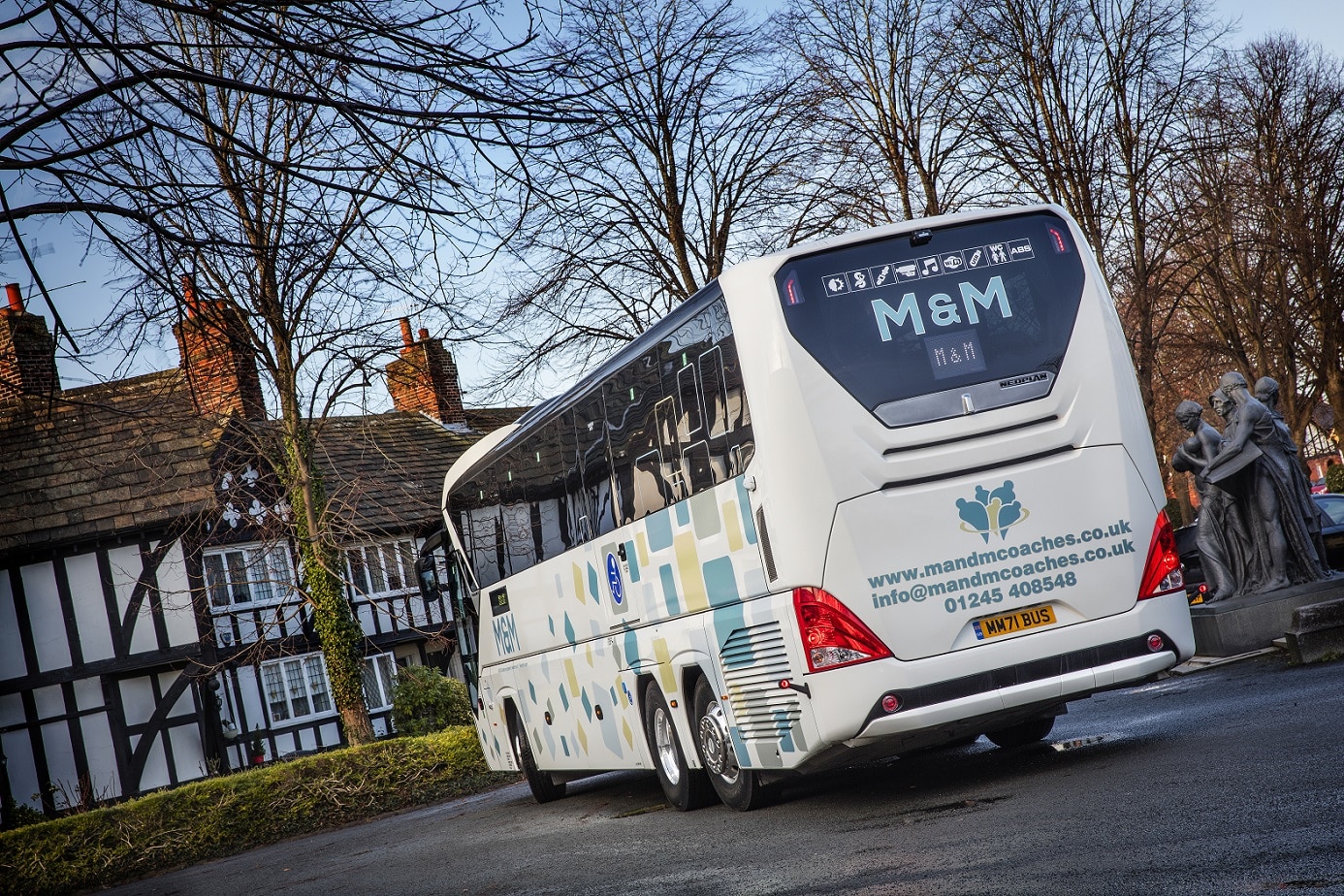 The operator has a policy of leasing coaches rather than buying them. That approach dovetails with its choice of warranty package on new vehicles.
M&M opts for both on five-year agreements with a plan to move coaches on when that period expires. Commonality of marque also has benefits for spare parts holding, although M&M only carries out minor repairs itself. Other work is handled by a third-party maintenance provider or the local MAN dealership. 
"Some in the industry have advised me to shop around and try other marques, but I believe that MAN is making progress in aftersales. M&M is a small operator, but it seems that MAN listens to me when I have something to say," Mark says. 
"I have learned a lot about the Tourliner, and while there are no poor coaches in the market, I don't want to have to do the same with another type. I see our work with MAN as a long-term relationship." 
M&M Staffing is k
een to try new technology
That approach filters through to M&M's keenness to evaluate new technology that MAN will soon introduce to the UK market for Tourliner coaches. The OEM's long promised OptiView rear view camera system will debut on a pair of forthcoming demonstrators and Mark is keen to try it. 
A reduction in drag, the removal of blind spots created by mirror arms and casings and the ability of OptiView's software to eliminate dirt specks from the displayed image all appeal. He does not rule out retrofitting other Tourliners in the fleet when that option becomes available. It's all part of the development of a rapidly maturing operator.