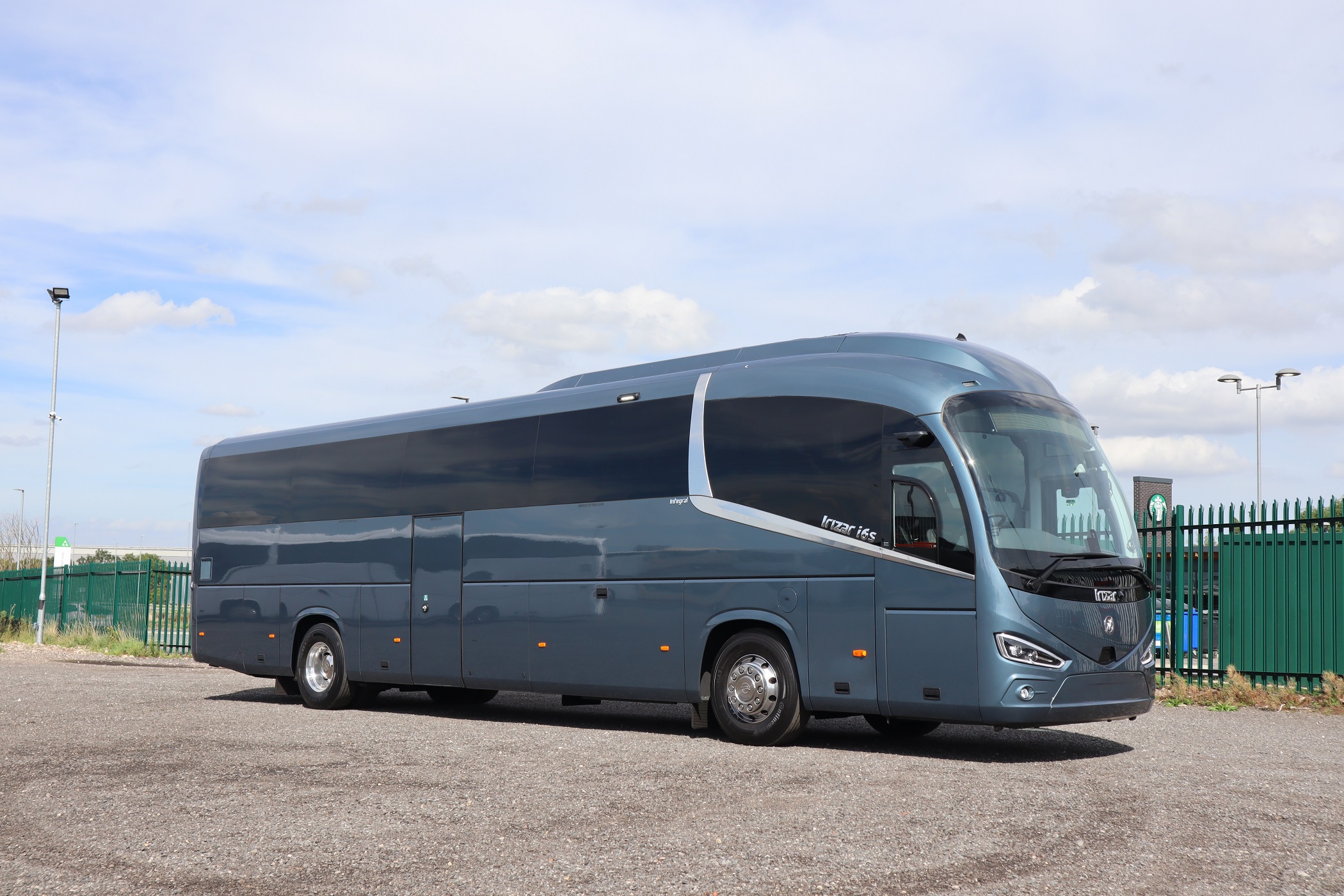 In launching its i6S Efficient, Irizar boldly described the newcomer as "the coach of the future." Advancements throughout the model have reduced weight, fuel consumption and CO2 emissions, and that is positioned alongside improvements to the driver and passenger experience. 
Irizar UK recently debuted the first right-hand drive i6S Efficient integral. The two-axle coach is a 12.9m, PSVAR compliant example that seats 55. It has a DAF MX-11 engine coupled to a ZF EcoLife CoachLine gearbox and is currently amid a tour that will present it to as many operators as possible. 
The lighter and more advanced i6S Efficient succeeds the earlier i6S in Irizar UK's range and sits alongside the well-established i6 integral. Lineage across those three models is clear. But only when the i6S Efficient is explored further does the scope of Irizar's comprehensive work become obvious. Even then, it is necessary for someone with product familiarity to explain all its new functions. 
A person to do that is Irizar UK Sales Director Julie Hartley. She is closely involved with the demonstrator and says that around 10 customer orders are in hand. Stock examples are also planned. As an evolution of the i6S, the Efficient variant is available with two or three axles and to various lengths and specifications.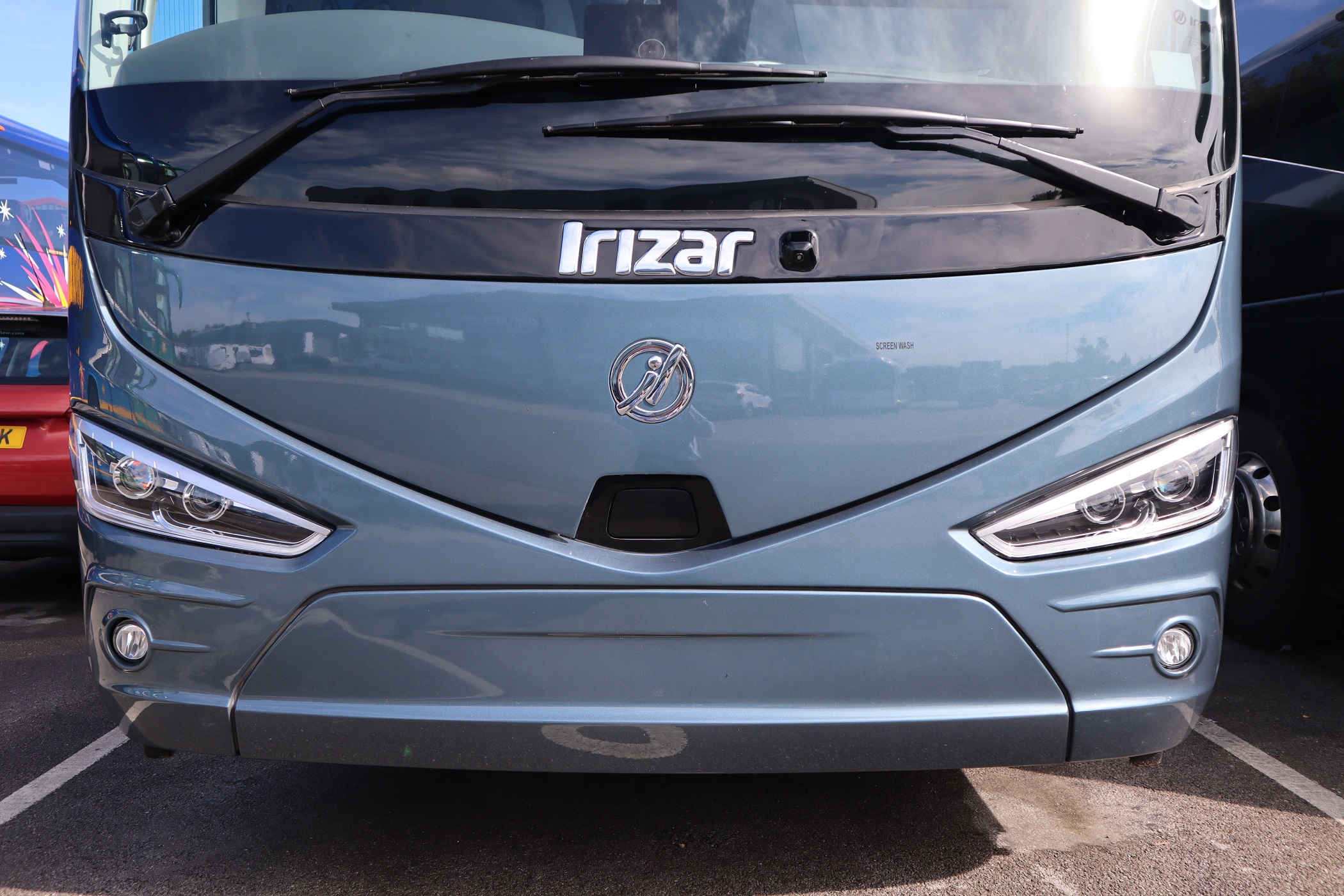 Julie believes that the i6S Efficient integral will quickly become Irizar UK's "bread and butter" coach, although she expects that the longstanding i6 will command market share where a cost-effective vehicle is required.
Julie notes that the work on efficiency began with Irizar's 2017 model year (MY2017) for its coaches and has culminated – for now – in the i6S Efficient.
The new model has generated good feedback on its roadshow thus far, Julie adds. While some operators are initially cautious around its rear-view cameras, they quickly come to accept them. Its demonstration circuit continues presently, and a sister vehicle is currently in build. The latter will be on Irizar UK's stand at Euro Bus Expo at the NEC Birmingham on 1-3 November. 
Mirror system on Irizar i6S Efficient is clever
Despite the i6S Efficient having Irizar's trademark look, differences to what went before are obvious. The demonstrator's lack of gullwing mirror arms is principal among those. In their place is the camera monitoring system. It delivers a better view than would come with mirrors. 
Any B-pillar blind spot is dealt with via wide angle images that are presented on a high-definition colour display on each A-pillar alongside a standard view. To that, Irizar adds a nearside camera looking downwards. Equally important is a frontal camera. It also looks down and is within a small bulge beneath the windscreen. Both are helpful when manoeuvring.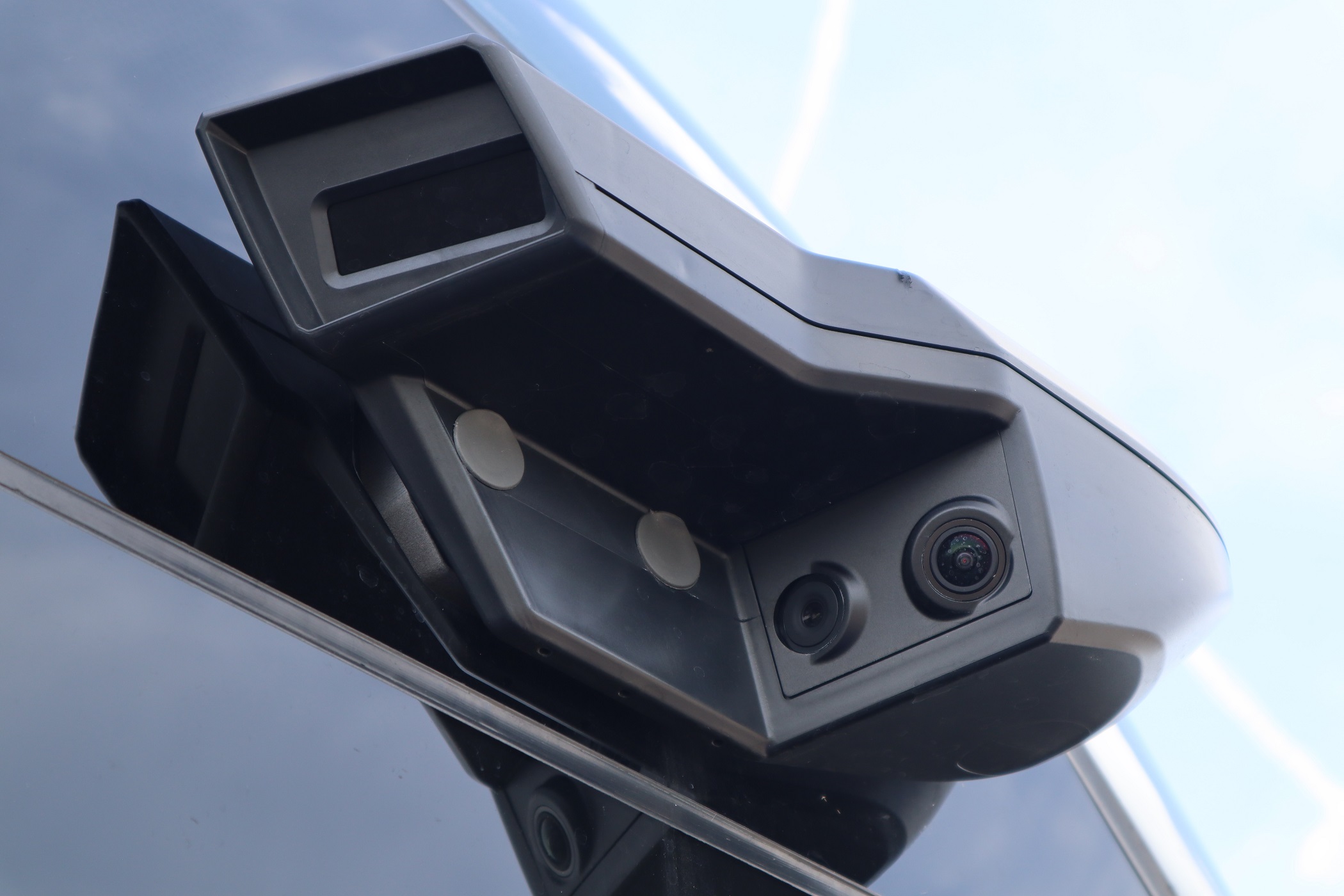 Considerable thought has gone into the display units to account for different ambient light levels. The driver can cycle through settings manually or use an automatic default. 
Removal of mirrors is important for drag reduction, but Irizar has also done extensive other styling work to smooth airflow. That includes a rounder front and sharper, more pronounced rear corners. They deliver a second benefit of extra room in the back row of seats. 
Other changes in this sphere capture the air-conditioning unit – which is thinner and thus extends less from the roof. Suspension 'squat', introduced in MY2017, remains. The coach automatically drops by 30mm at 40mph to improve airflow. 
A further part of Irizar's work on the i6S Efficient is a slight extension for the front overhang at the expense of the rear. It serves two purposes: More weight is imposed on the steer axle, giving what the manufacturer says is better steering feel. As imposed mass comes off the rear, theoretical scope for luggage capacity improves. Julie points out that a two-axle coach is usually constrained by its rear axle weight before reaching GVW. 
More changes underneath
for Irizar i6S Efficient
Visible alterations are one part of the i6S Efficient, but they sit alongside more under the skin. That is literal for at least one advancement; higher-grade steel is used. It contributes to a claimed like-for-like weight saving of 950kg over the i6S and it additionally allows the gangway to widen by 20mm.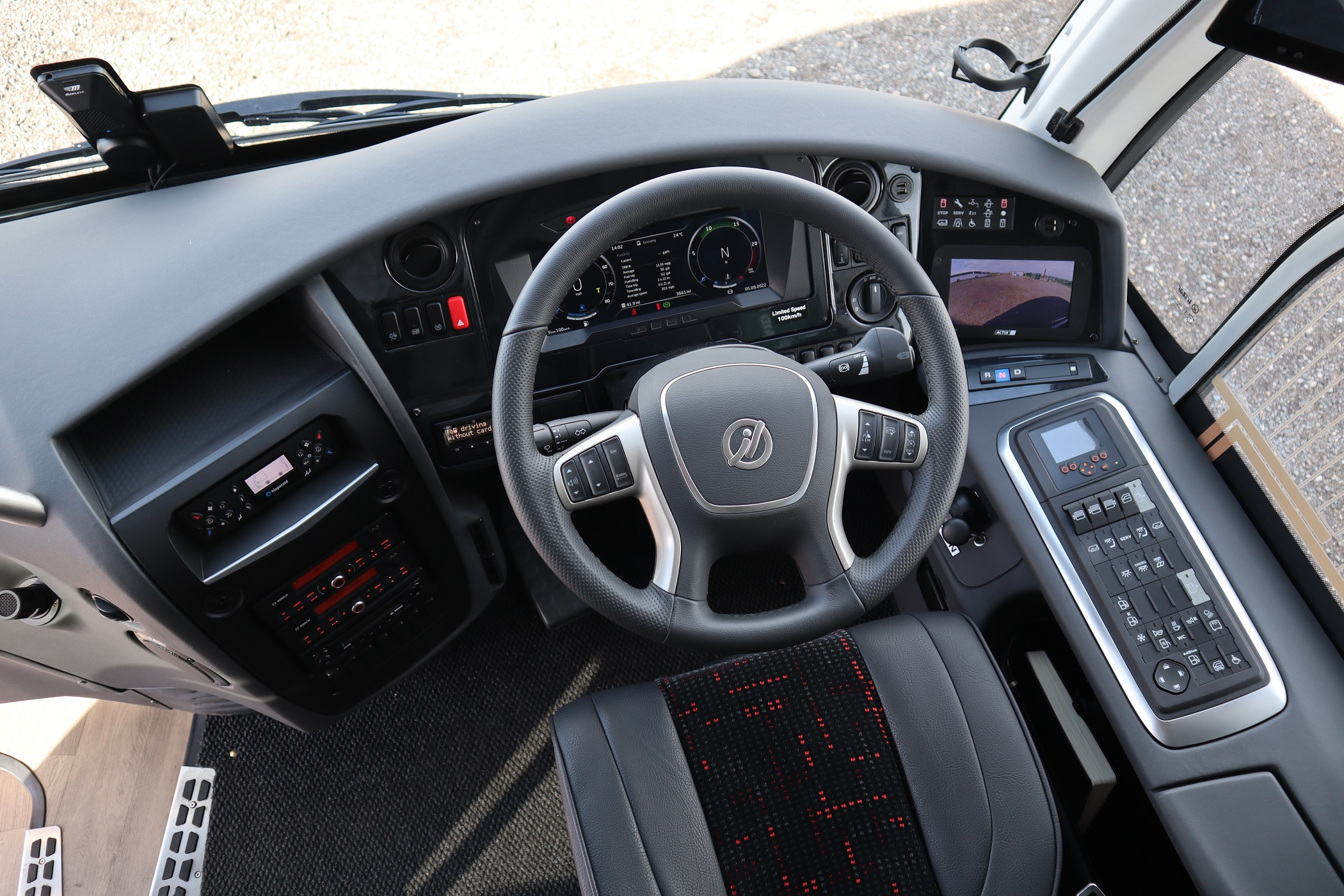 Other changes see the passenger area slightly extended, while the cab has an additional 145mm in length, and the courier position 90mm.
Windscreen rake is more pronounced, and when combined with a slight change to the position of the seat, visibility is improved.
Those points aside, the cab of the i6S Efficient demonstrator is largely the same as MY2017 models, although subsequent deliveries will have a new climate control head unit.  
The coach comes with Irizar's digital binnacle, again something introduced in 2017. In addition to presenting the expected dials, it delivers via multiple menus a variety of other data. 
It also allows four distinct shift strategies for the EcoLife CoachLine gearbox to be selected – from super-eco to power – while there is a standard/economy choice for the engine. The latter comes with a caveat; on a steering column stalk is fitted a button that can turn the economy setting off. It is where the switch between automatic and manual would be on a ZF Traxon-equipped coach. 
Choice between EcoLife CoachLine or Traxon is dependent on the operator's circumstances. The latter comes with predictive powertrain control, which uses topographical awareness and momentum to influence shifting. Traxon thus has an efficiency benefit over the EcoLife. However, experience in the demonstrator shows that the fully automatic unit is as smooth as ever. 
Swyncro door addition
after debut on i8
The passenger area is largely as before except for the alterations at the rear and a modest extension, but there are more general body changes. Both the front and continental doors now have Masats' Swyncro mechanism. It is a chunky one-piece arm mounted at around the middle of the door.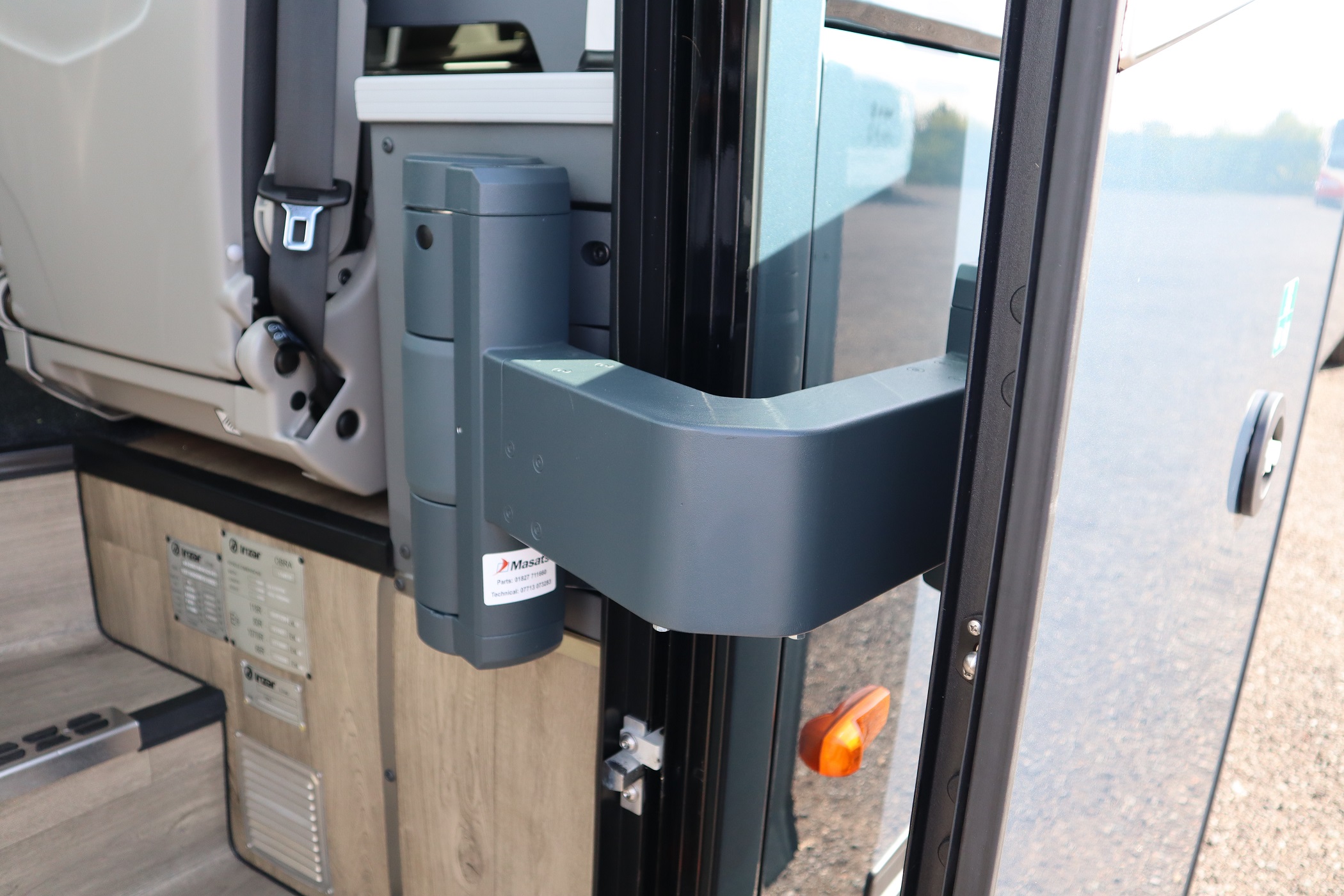 Swyncro debuted on the i8 in 2019 and represents a a notable change to a typical door mechanism.
There is no accompanying guide installation at the bottom, and thus there is no scope for such equipment to require adjustment.
Swyncro also allows the door to be manually opened or closed with relative ease from inside or out. Its mounting position means that a powered péage window is no longer possible, although a manual one is. 
To the left when boarding is a stainless-steel handrail, while the steps are edged with the same metal and LED strips. There is no handrail on the underside of the courier seat, which does not lock in position when stowed. 
For the crew, powered luggage bay doors are fitted, with smaller storage areas behind the rear axle for their own items. Twin diesel fillers are above the steer axle, while the AdBlue tank moves to the front nearside. Its filler is thus close to one for fuel. Care will be needed in ensuring that they are not mistaken for each other. 
Passengers well considered
by Irizar

Seats have a dark fabric with synthetic leather inserts. They recline and come with three-point belts, USB charging points, aisle-side armrests and magazine nets.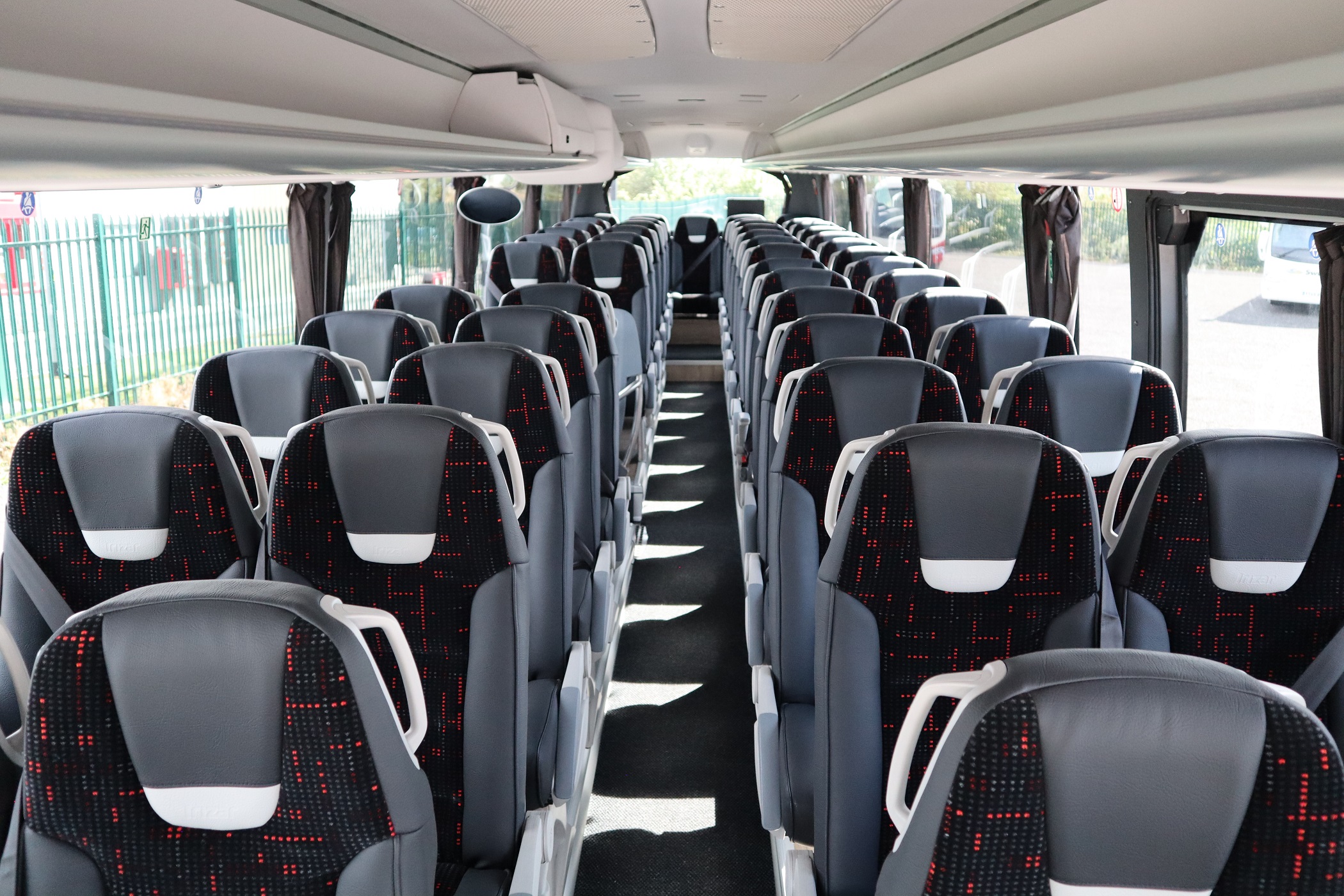 The drop-down table has a sliding top that reveals an iPad slot. Leg room varies, with the best on the offside behind the continental door.
Usual amenities of passenger service units, perimeter radiators (part of a system that includes a Spheros pre-heat unit) and twin monitors are fitted. 
Accessibility is with a Masats KS7 cassette lift behind the front axle. It has a wanderlead and a straightforward control unit; in the demonstrator, two seat pairs are tracked to give one wheelchair user position.  
While those seats currently need to be removed, Irizar is working on an alternative involving tip-up squabs and a 'shuffle' function, although it will invoke the loss of six seated positions for a wheelchair user space to be created. Hanover displays are fitted all round. 
Driver's experience excellent
, as expected
The i6S Efficient integral is a smooth and quiet coach. Its rear-view displays are accustomed to rapidly, and use of coloured lines to illustrate the position of the drive axle and the rear of the coach is helpful.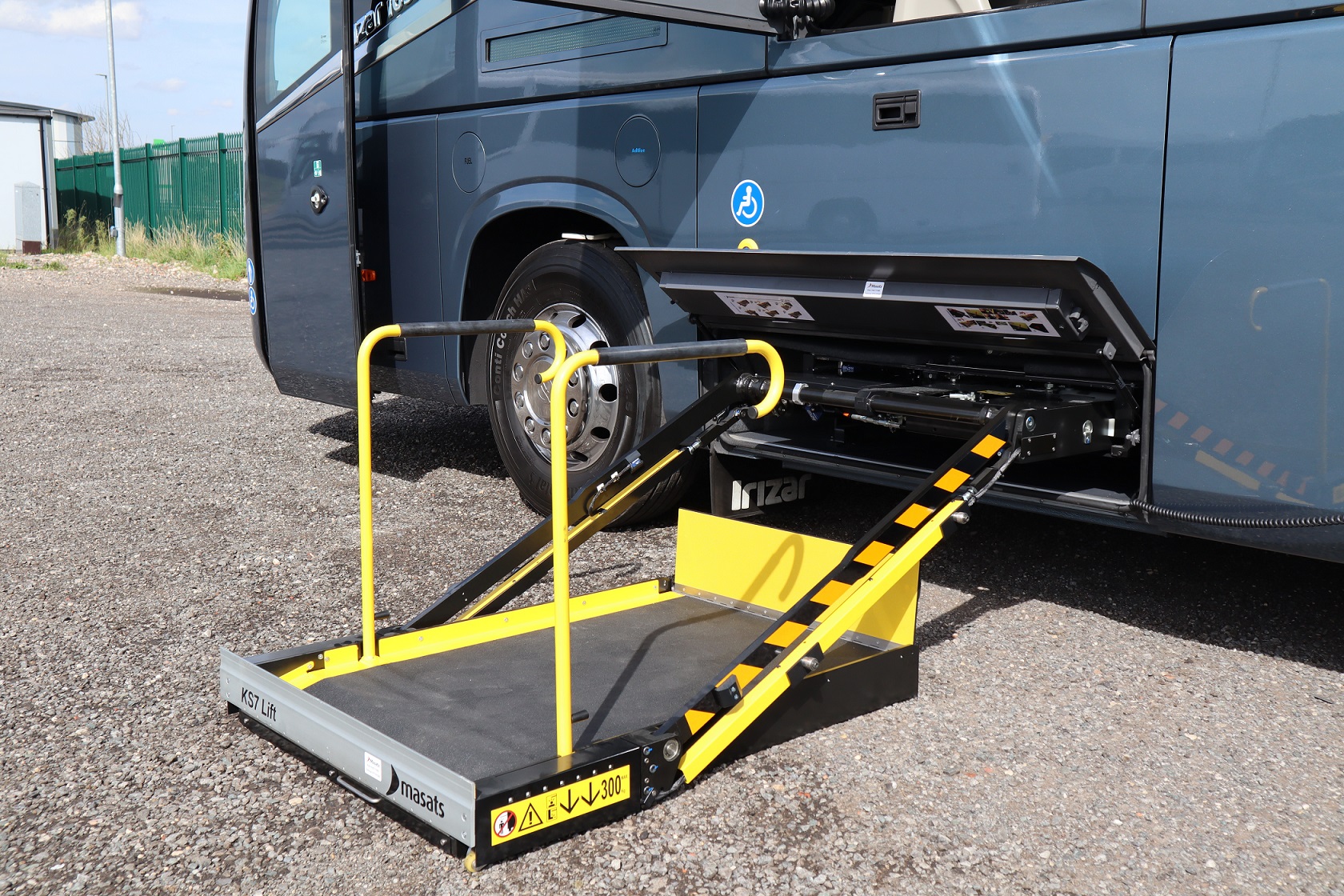 After a few cautious turns to start, the coach is driven in the same manner as one with mirrors.
The Irizar underframe modules give excellent roadholding, and the coach can be pushed hard without losing composure. Visibility is largely good, although the signalling window frame is in the eyeline of a tall driver. 
Noise in the cab is almost non-existent. The tachometer shows that in an economy setting, upshifts come before 1,500rpm even with the throttle fully open. At 62mph, an engine speed of around 1,250rpm is displayed and the coach happily holds 50mph in top gear at 1,000rpm. The Euro VI step E MX-11 pulls well from low revs, helped by its 2,100Nm torque peak starting at 900rpm. 
Whether the i6S Efficient really is the coach of the future remains to be seen, but it certainly takes what was already a versatile and popular product and elevates it significantly.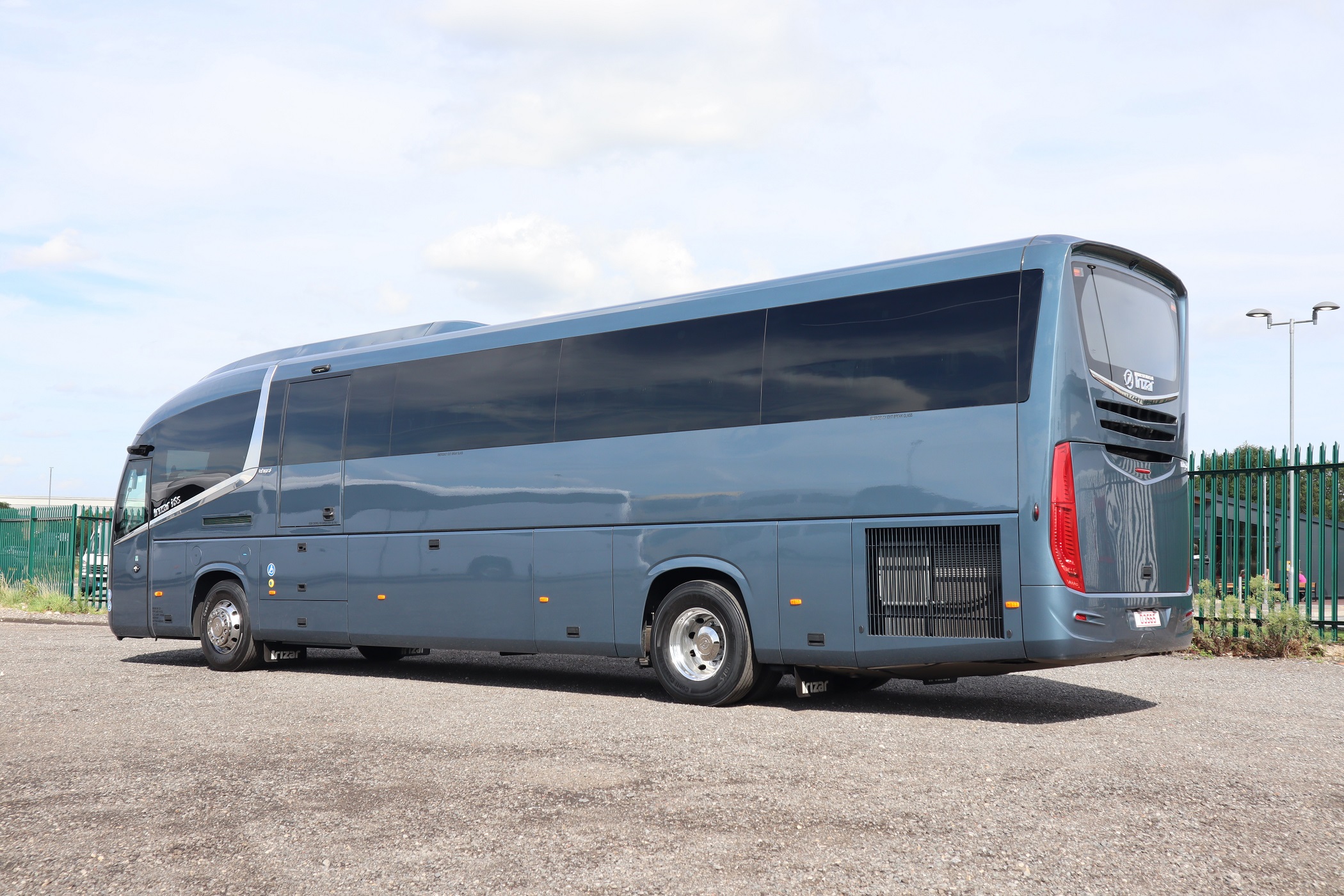 Irizar UK has seen fuel figures above 12mpg on its roadshow and it expects better under favourable circumstances. routeone returned around 12mpg with the effect of some idling. 
So far, so good for the i6S Efficient. Operator response has been positive, the numerous updates promise much, and the driver and passenger environments have taken what went before and built on it.
Facts and figures
Engine: 10.8-litre, six-cylinder DAF MX-11

Power: 308kW (408bhp) @1,600rpm
Torque: 2,100Nm (1,549 lb ft) @900-1,125rpm
Emissions: Euro VI using EGR and SCR
Tyres: 295/80 R22.5
Length: 12.92m
Height: 3.73m
Width: 2.55m
Wheelbase: 6.82m
Gross weight: 19,000kg
Unladen weight: Not known