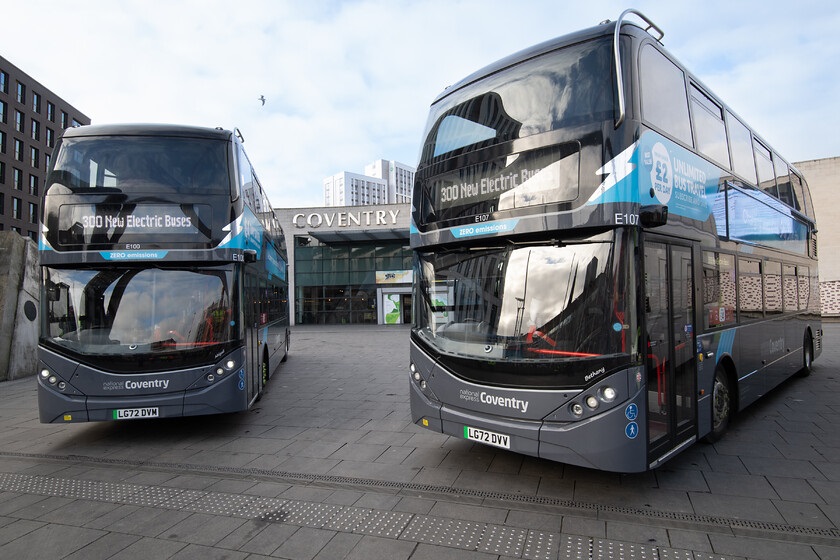 National Express West Midlands (NXWM) has ordered a further 300 battery-electric buses. They are to be deployed across its operating territory and all will be delivered by the end of 2024.
The deal relies on no third-party support and represents a wholly commercial investment of £150 million by the operator. It is thought to be the biggest single commitment for zero-emission buses yet made in the UK.
NXWM says that announcement of the specifics of the order is to follow in due course. However, it has confirmed that more than one vehicle OEM will build the buses and adds that they will be "UK made."
Once complete, the procurement will leave one-third of the NXWM fleet as being zero-emission. Ordering battery-electric on such a scale demonstrates that the bus sector is "now at the tipping point" for the technology, says National Express UK and Germany CEO Tom Stables. He has underlined National Express's existing commitment that all its buses in the UK will be zero-emission by 2030.
Mr Stables was joined by NXWM Managing Director David Bradford, Under-Secretary of State for Transport Richard Holden and Mayor of the West Midlands Andy Street in announcing the latest commitment. Mr Stables adds that "initial government support" has helped the bus industry to reach the position that he believes it is now in for widespread deployment of battery-electric technology.
800 zero-emission buses will be in service in the West Midlands by 2026. That total will include 275 in Coventry across multiple operators as part of the winning All Electric Bus City bid, while 124 Zero Emission Bus Regional Areas-funded examples will be delivered in 2024. Among those will be 24 hydrogen fuel cell-electric articulated models for the Sprint bus rapid transit service.
Mr Stables adds that the battery-electric BYD ADL Enviro400EV double-deckers already in service with NXWM are both popular with customers and more economical to operate than diesel-fuelled equivalents. The former "will boost passenger growth and revenue," he notes.
Speaking at the same time as Mr Stables, Mr Holden adds: "Reliable, clean and efficient bus services at a good price are what everyone wants to see from our bus network, and I am determined to do everything possible to decarbonise our transport network and support skilled jobs in next generation bus manufacturing across the UK.
"We've already invested hundreds of millions of pounds to kickstart the rollout of zero-emission buses nationwide, and it is great to see National Express introduce hundreds of electric buses here – helping UK manufacturing, driving down emissions and improving bus services for people across the West Midlands."
In addition to NXWM's commitments to zero-emission vehicles, Rotala – which has a significant presence in the West Midlands through its Diamond Bus operation – recently stated that in FY2024/25, it will begin "a fresh cycle of fleet replacement" that is expected to involve battery-electric buses.